Republicans want arrests for illegal immigration
Publication Date:
July 26, 2017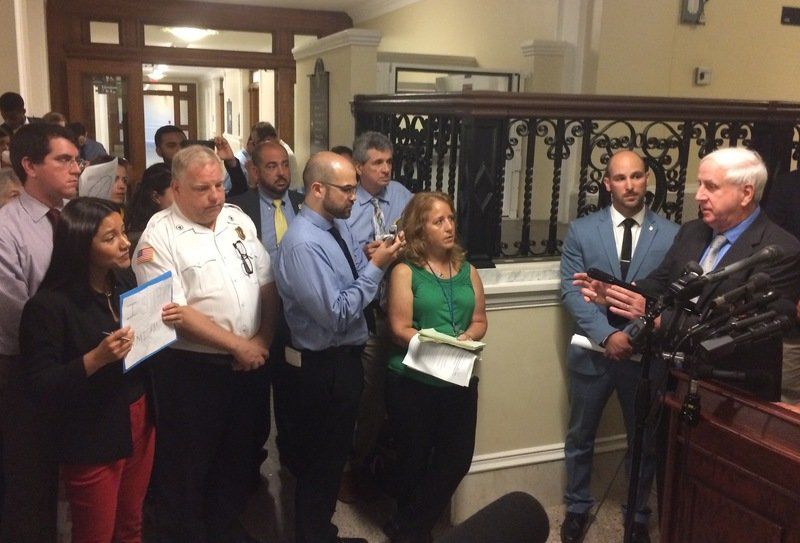 Protestors from the immigrant rights group Centro Presente argue with Rep. Jim Lyons, R-Andover, and other Republican lawmakers at a press conference Wednesday in which they discussed a proposal to require police to detain people suspected of violating immigration laws. Security was called to the event. There were no arrests. Christian M. Wade / Statehouse reporter
––-
BOSTON — Republican lawmakers hope to require local law enforcement officers to detain people suspected of violating federal immigration laws, drawing backlash from immigrant rights groups who say it will amount to racial profiling.
A bill filed by Rep. Jim Lyons, R-Andover, and several other House Republicans comes in response to a Supreme Judicial Court ruling on Monday that existing state law doesn't give local police the authority to detain people suspected of being in the U.S. illegally unless that person faces criminal charges.
The high court ruled that police in Massachusetts cannot cooperate when federal Immigration and Customs Enforcement authorities ask for someone to be held until they can arrive with a detainer. The ruling suggests the Legislature has the power to require that or restrict it, if it chooses to do so.
"The people of Massachusetts deserve to have their communities safe," Lyons told reporters at a briefing Wednesday. "If there are federal laws that are out there that are being broken, we should be able to use the authority to protect the public."
The proposal allowing police to detain those suspected of being in the U.S. illegally, with or without a warrant, faces a tough sell on Beacon Hill. The Democratic leadership in the Legislature has been reluctant to appear tough on immigration.
Massachusetts Attorney General Maura Healey called Monday's court ruling a "victory for the rule of law and smart immigration and criminal justice policies, and a rejection of anti-immigrant policies that have stoked fear in communities across the country."
Lyons challenged Democrats to get behind the proposal.
"We are demanding that they look at this bill and determine that the public safety of residents is paramount," he said. "We urge them to pass this legislation."
Wednesday's press conference, which included comments from Bristol County Sheriff Thomas Hodgson, who is known for tough views on immigration reform, was crashed by immigrant rights activists who sparred with lawmakers over Lyon's proposal.
They chanted "get hate out of our state" and interrupted the briefing several times, drawing rebukes from Lyons and Hodgson.
"Let me remind the protestors that the First Amendment affords every one of us the right to be heard, but do not interrupt our constitutional right to express ourselves," Hodgson bristled.
"You're criminalizing the immigrant community," Patricia Montes, executive director of Centro Presente, shouted at him. "You're violating my human rights."
"Please, be respectful," Lyons said, trying to calm the protesters. "You're interrupting us."
Security was called but no arrests were made.
Hodgson said the bill would "restore law enforcement's right to collaborate with our federal partners to keep the public safe."
"We are a country of laws," he said. "The fundamental responsibility of our government is to keep our citizens and legal residents safe."
"This bill will guarantee that when ICE has expressed an interest in having someone detained by local law enforcement, they will not be released back into the community where they may pose a threat," he added.
Montes said the proposal is based on "hate and ignorance" about immigrants.
"The message that they are sending is that all of the undocumented people in Massachusetts are criminals," she told reporters after the briefing. "That's not the case."
Immigrant advocates want Massachusetts to declare itself a "sanctuary state" that bars local police from detaining people living in the country illegally.
One proposal, backed by more than 60 lawmakers — including Lawrence Democratic Reps. Juana Matias and Frank Moran, and Sen. Barbara L'Italien, D-Andover — would stop police from holding undocumented immigrants without an arrest warrant.
Matias said she believes the Supreme Judicial Court ruling has given momentum to the bill.
"Our state's highest court has done its part to protect the civil rights of our immigrant communities; it has upheld our Massachusetts values," she said. "We now, as a Legislature must do the same. "
Gov. Charlie Baker, a Republican, has threatened to veto the bill if it reaches his desk. Baker has said he doesn't oppose cities and towns that declare themselves sanctuaries, but the state shouldn't impose a blanket law.
Several communities, including Lawrence and Salem, have passed ordinances restricting local police cooperation with federal immigration officers.
Immigrant groups say Lyon's proposal would encourage local police to engage in racial profiling.
"This is a "show me your papers" measure, and an invitation to racially profile anyone that police encounter, including victims, witnesses and just random bystanders," said Amy Grunder, director of legislative affairs for the Massachusetts Immigrant and Refugee Advocacy Coalition.
"And we know what suspected undocumented immigrants look like, in practice: Latinos and other people of color," she added.
Rep. Paul Tucker, D-Salem, a former Salem police chief who sits on the Judiciary Committee that will review Lyon's bill, said he hadn't reviewed the proposal and couldn't comment on it.
But he supports efforts to restrict local cooperation with ICE, lest communities be less safe because people are dissuaded from reporting crime for fear of deportation.
"Local police cannot and should not be enforcing immigration law," he said. "We don't have the authority to do it, and it breaks downs what should be good relations between the police and the immigrant community."
© Copyright 2017 Eagle-Tribune