Centro Presente brings together Latin American, Muslim communities in solidarity at State House
Publisher:
The Daily Free Press
Publication Date:
February 15, 2017
A line of people stretched across the front steps of the Massachusetts State House, holding signs that spelled out "Walls Divide!" in front of a crowd of more than 100 people Tuesday night.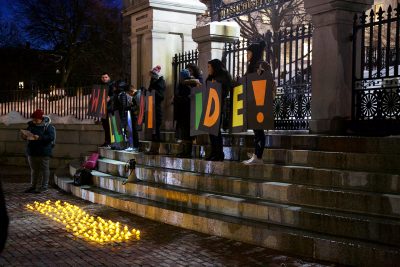 PHOTO BY HALEY ABRAM/ DAILY FREE PRESS CONTRIBUTOR
Centro Presente, an organization dedicated to fighting for immigrant rights in Massachusetts, organized the demonstration in order to bring together Latin American and Muslim communities in a show of solidarity for immigrant rights, according to Patricia Montes, the executive director of Centro Presente.
"We are here to say we are going to receive hate with love, we are going to receive hate with solidarity," Montes said during the rally.
After Montes' introduction, Humayun Morshed, of the Bangladesh Islamic Center of Massachusetts, spoke to the crowd about the importance of intersectionality.
"We need to be united now more than any time in history," Morshed said. "I'd like to be in solidarity with all my communities. We need to be together for a good cause."
Montes then addressed the crowd again, continuing her speech by elaborating on Morshed's comments about organizing for several causes.
"We need to be together, but not just for one event," Montes said. "We need to work together, we need to plan together, we need to strategize, and think about our present and our future. I'm not just saying organize a rally, we need to organize a movement."
Within the past decade, it has become more difficult for organizations like Centro Presente to pass legislation on immigration reform, according to Morshed.
"For many years, organizations have been advocating to change policy in our state, but in the past 10 years, it has been impossible to change public policy at the state level," Morshed said. "Now more than ever, we need to let them know that this house is also the house of the undocumented people in Massachusetts."
Souad Akib, the executive director of the American Association for Arab Women, spoke last and said she believes racism is driving the Trump administration's immigration policies.
"We are here to send a clear message that we are not criminals, that we are no different than the immigrants of the early 1900s who came before us," Akib said. "The only difference is the color of our skin. We want the same thing, and we need to send a clear message that we will not be afraid to fight back."
Several people who attended the rally said participating in rallies and protests is essential in expressing dissent against policies and laws they do not support.
Jose Palma, 40, of Lynn, said he believes protesting sends a clear message to President Donald Trump about the community's priorities.
"It's very important to show to Donald Trump that the community is worried about what he's doing, but also willing to respond in an organized way," Palma said. "It's also very important to send a message to the undocumented community that people here are in support of them."
Christopher Milmore, 26, of Waltham, said he has been making an effort lately to get more involved in protests and rallies.
"I've always been sort of politically radical, but I'm trying to get out of my head and show up more and be more involved whenever I have free time," Milmore said. "Going out and being around people who are like-minded makes me feel a lot better. Just because no one like [Trump's] politics doesn't mean that's going to do anything, you have to show up and be vocal about it."
Allison Christiansen, 46, of Dorchester, said she wants to show solidarity with groups targeted by the Trump administration.
"Even if the rallies are small, the fact that they're so consistent matters," Christiansen said. "Our voices matter, and our voices are going to be heard, even if they weren't necessarily heard at the ballot box, because we can't just sit around until 2018 or 2020 to make a change."
Copyright © 2017 The Daily Free Press.